I'm loving Love
r®
silk shirts and lace dresses, even the orange pants! Oh well yes, more Black Swan (what a surprise, eh?) but I like it!
Of course with references to our beloved '70s.
Mi piace tanto la collezione di Lover
®
: camicette di seta e vestiti di pizzo, pure i pantaloni arancioni! Beh sì, più Black Swan (che sorpresa, eh?) ma mi piace!
Ovviamente con riferimenti ai nostri amati anni 70.
Me gusta mucho la colección de Lover

®
: camisas de seda y vestidos de encaje, hasta los pantalones naranjas! Bueno, sí, más Black Swan (que sorpresa, eh?), pero me gusta!
Obviamente con referencias a nuestros queridos años 70.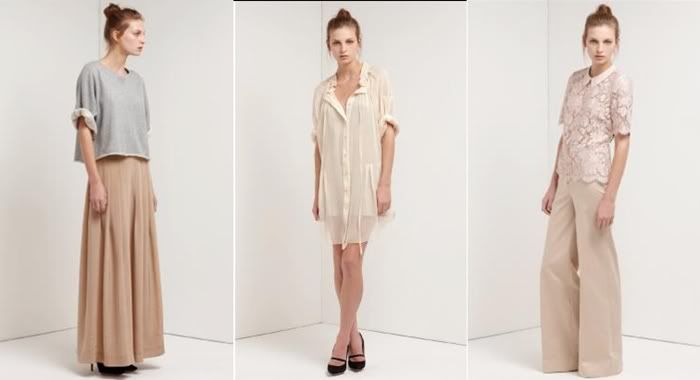 Hi everyone! I just wanted to apologise if I don't post that much lately (well, when have I;)) or don't comment that much in your blogs. I started a Fashion Stylist course everyday 'til 10pm after work and I am up to my eyes in work and with fashion, which I really love, but I need to sleep sometimes. ;)
So how are you all? I can't believe in 10 days I will be in New York for the first time ever!
:)
Ciao a tutti! Volevo solo chiedervi scusa se non scrivo così tanto ultimamente (e quando mai;)) o non commento nei vostri blog così tanto. Ho iniziato un corso di Fashion Stylist dopo il lavoro tutti i giorni fino alle 22:00h e sono veramente impegnata tra lavoro e moda, cosa che adoro, ma ho anche bisogno di dormire a volte. ;)
Come state voi? Io non ci credo che tra 10 giorni sarò a New York per la prima volta!
:)
Hola a todos! Quería solo pediros disculpas si no escribo tanto últimamente (y cuándo lo he hecho;)) o no comento tanto en vuestros blogs. Empecé un curso (máster intensivo) de Estilismo después del trabajo todos los días hasta las 22:00h y estoy hasta arriba entre el trabajo y la moda, que me encanta, pero también tengo que dormir a veces. ;)
Qué tal vosotros? Yo no me creo que en 10 días estaré en New York por primera vez! :)
Have a great week!!!
besos
:)