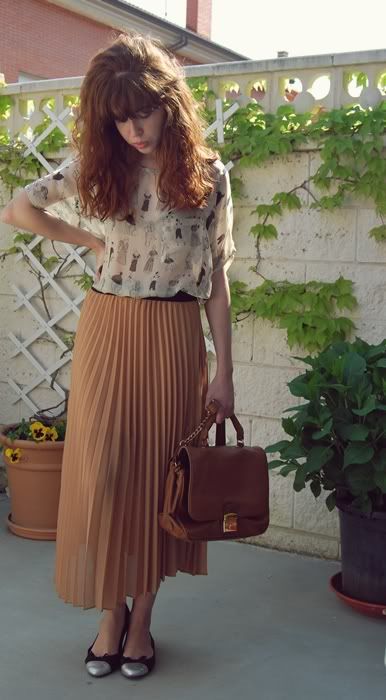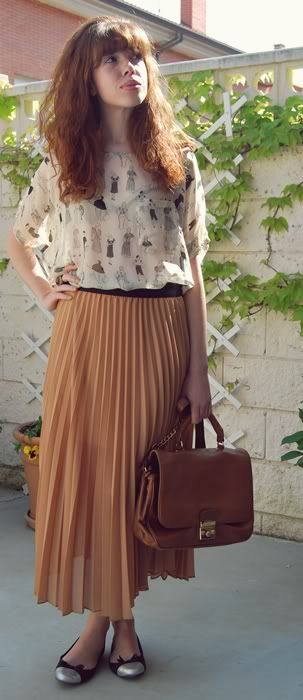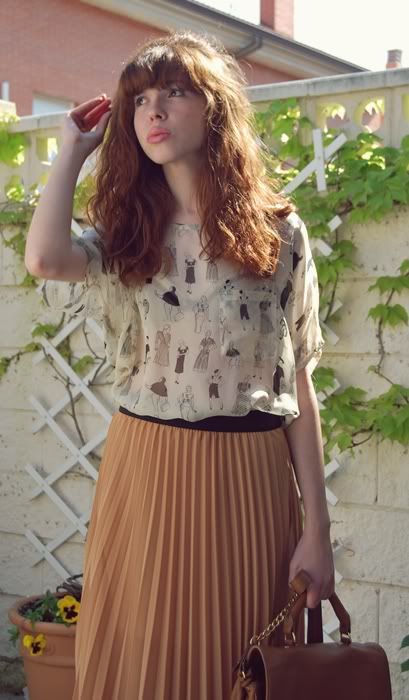 ring: H & M
skirt: Century 21 (NY)
bag: Hazel
ballet flats: Zara.


I'm in love with this blouse that you can use with a really simple outfit and will turn it into something original and even elegant.
At the beginning I wasn't sure about the colour of the pleated skirt but I think it's perfect for spring or even summer evenings.
..
don't you think so?
I really want to thank you all for your comments! Do you have holidays this week? Are you doing anything special? I work and have classes 'til Wednesday! So enjoy your week! I will try my best too. :)

Sono innamorata di questa camicetta che si puo usare con un outfit semplice e lo farà sembrare originale, anche elegante.
All'inizio non ero sicura del colore della gonna a pieghe ma penso sia perfetta per primavera ed anche per le serate in estate.
Non pensate?
Voglio ringraziarvi per i vostri commenti! Avete delle ferie questa settimana?
Fate qualcosa di speciale? Io lavoro ed ho lezione fino a mercoledì... divertitevi! Anche io farò il possibile. :)
Estoy enamorada de esta blusa que se puede usar con un outfit sencillo y se volverá algo original y elegante.

Al principio no estaba segura del color de la falda plisada, pero creo que es perfecta para la primavera, incluso para las tardes de verano... no creéis?
Quería daros las gracias por vuestros comentarios! Tenéis vacaciones esta semana? Hacéis algo especial? Yo trabajo y tengo clases hasta el miércoles... divertíos! Yo también haré lo posible. :)
Por cierto el otro día compré mi entrada para el festival Día de la Música (Heineken) en Madrid el 18 y 19 de junio. Es pocos días antes de acabar mi máster, así que me vendrá bien olvidarme de todo y perderme entre las notas de Vetusta Morla o Russian Red entre otros (que presentarán sus nuevos discos, qué ganas!:)). Si os gustan tenéis toda la info aquí!