El mes pasado
Erea
me escribió para participar en un post de novios/fotógrafos de bloggers que estaba preparando (por cierto yo también había pensado hacer uno del estilo así que no descarto sacarlo algún día:)) y la idea era que nuestros chicos salieran en el post, para agradecerles por todo lo que hacen por nosotras y por cuánto nos apoyan (no solo moralmente sino en muchos casos haciendo las fotos). Jose y yo quedamos con unas amigas en el Templo de Debod y aproveché para pedirle a una de ellas, Jennifer, que nos hiciera unas cuantas fotos así que en un momento recreamos una pequeña sesión pre-boda (no de verdad, obviamente! ;))... podéis ver el post de Erea con más bloggers y una ilustración muy original y divertida de su novio
aquí
.
PD. Qué largo tenía el pelo... snif.
Last month Erea asked us to participate in a post about boyfriends/photographers of bloggers that she wanted to write (I also had thought about doing something like that so I guess I will do it someday:)) and the idea was that our boys were in the post to thank them for everything they do for us and support us. Jose and I went out with some friends to beautiful Debod Temple and asked my great friend Jennifer to take some pics of us so we created some sort of little engagement session (not a true one though!)... you can see Erea's post with more bloggers and a great and funny illustration from her boyfriend here.
PS. Miss my long hair... sigh.
Il mese scorso Erea ci ha scritto per partecipare in un post dei ragazzi/fotografi delle blogger nel suo blog (anche io avevo pensato a fare qualcosa del genere quindi sicuramente lo farò un giorno:)), l'idea era che i nostri ragazzi fossero nel post per ringraziarli per tutto ciò che fanno per noi e per quanto ci supportano. Jose ed io siamo andati al Templo de Debod con delle nostre amiche ed ho domandato alla mia grande amica Jennifer di farci qualche foto... potete vedere il post di Erea con le altre blogger qui ed anche una illustrazione molto divertente del suo ragazzo qui.
PD. Avevo i capelli lunghi... sigh.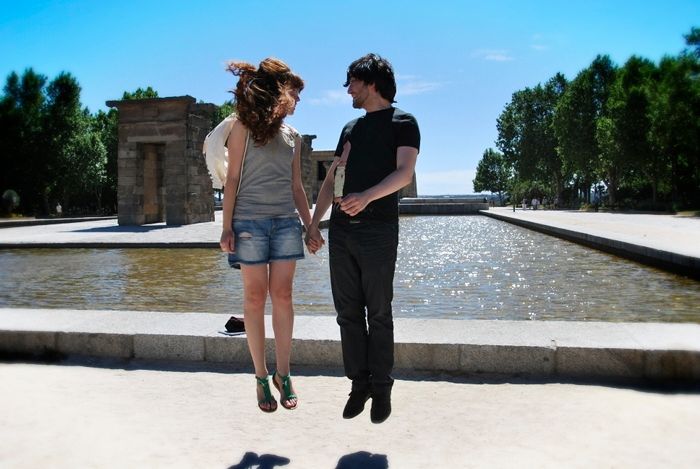 tshirt: kling | shorts: Pull and Bear | sandals: H and M
twitter ||
facebook
bloglovin || pinterest