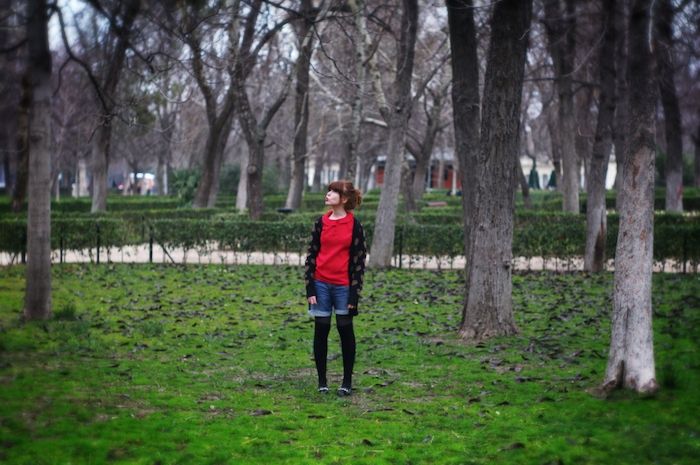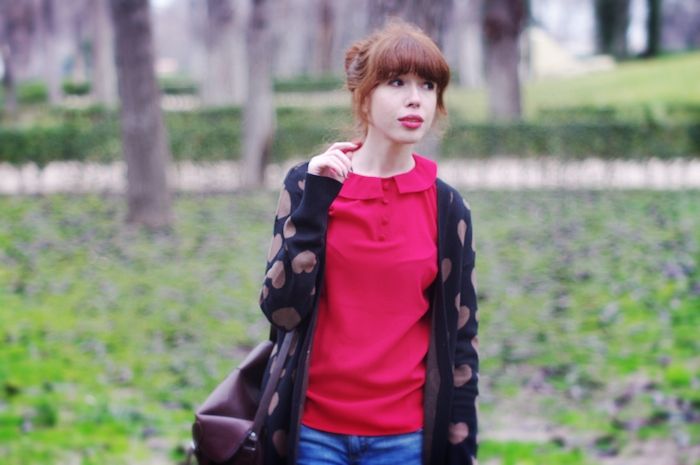 cardigan & top:
pepa loves
| bag:
rockit
vintage - london | ring:
soufflè
| socks:
calzedonia
| shoes:
zara
La moda tiene reglas, y en mi opinión, también están ahí para ser saltadas. Todas hemos oído reglas de qué llevar, qué no llevar, cómo llevarlo... y es bueno saber usarlas según nuestro propio estilo! Pero a veces lo único que quieres es ponerte lo que te apetece ese día porque tu estado de ánimo te lo pide a gritos, y sinceramente te pasas las reglas por el forro, a veces está bien sacar nuestra personalidad y olvidarnos de lo demás.
No soy muy fan del color rojo en la ropa, pero debe ser que como últimamente uso mucho mi nuevo pintalabios favorito - ruby woo de MAC, me he acostumbrado y me apetecía llevar algo más. ;) Además, siendo pelirroja, tengo que tener cuidado y no llevarlo cerca de la cara, ya que resalta todo demasiado... como hoy me apetecía lo arreglé recogiéndome el pelo en un moño (algo que hago mucho últimamente), y combinándolo con unos shorts y todo lo demás negro y marrón para contrastar con el rojo.
Y a vosotros, también os gusta llevar a veces colores o prendas que "no os pegan"? Me interesa vuestra opinión!
Fashion have some rules and in my opinion it's good to break them sometimes. We all heard some rules on what to wear, what not to wear... sometimes the only thing you have to do is to wear what you feel to wear that day because your mood is asking you to do it!
I'm not really a fan of red in clothes, but I guess my new favourite lipstick - ruby woo from MAC, is making me love it and I wanted to wear something else. ;) Moreover, since I'm redhead I always have to be aware and don't wear it next to my face since it would be flashy... I solved it fast putting my hair up in a bun and combining the red top with some shorts, black and brown clothes.
Do you like to wear sometimes colors or clothes that were not done for you, initially? I'd love to hear what you have to say!
besos, iris xx
find me on
: