Llevo mucho tiempo queriendo empezar a hablar de
sitios especiales en Madrid
. No me refiero sólo a
mercados
como he hecho últimamente, sino
tiendas bonitas
o
sitios
donde
comer
en Madrid.
Espero que os guste esta sección y os animéis a descubrir estos lugares si venís por aquí. Y si sois madrileños y ya los conocéis, me gustaría mucho saber vuestra opinión, o si queréis que hable de algo en especial... :)

It's been a long time since I wanted to start writing this section about special places in Madrid. Not just markets as I posted lately, but also cute shops or where to eat in Madrid.
I hope you like this section and that it'll help you if you visit Madrid!

E' da tanto che volevo iniziare questa sezione con posti speciali a Madrid. Non solo mercati come vi ho fatto vedere ultimamente ma anche dei negozi carini e posti dove mangiare a Madrid.
Spero vi piaccia questa sezione e che vi aiuti se venite a Madrid!
Something good is going to happen
Hace muchos años solíamos ir bastante a casa de mi amiga Sonia, y ella y su madre, estadounidense, nos hacían tortitas con sirope de chocolate. Allí también probé otros postres americanos. Todavía no estaban de moda en España, y creo que por eso cuando vuelvo a tomar alguno o voy a alguna bakery, me acuerdo de mi querida amiga (que desde hace años vive en EEUU) y de su familia.
No recuerdo cuándo descubrí exactamente Happy Day Bakery, pero me parece que la conozco de toda la vida. Y es que sí recuerdo la emoción al ver por primera vez una tienda tan bonita, y que vendía cupcakes, en Malasaña! Pero lo mejor no es su estética que nos recuerda a las tiendas americanas de los años 50, en Happy Day puedes encontrar cupcakes, muffins, tartas, cookies, galletas decoradas, bagels, regalos, libros y una pequeña selección de productos de Estados Unidos para hacer en casa.
Os aseguro que llevo mucho tiempo comprando allí y he probado varias cosas, y está todo BUENÍSIMO!
Además, en qué otro sitio en Madrid podían vender sino las galletas de
Mr Wonderful
?

Many years ago, we used to go to Sonia's home, one of my best friends from high school. She and her mother (that is American) used to cook pancakes with chocolate syrup to us. I also tasted some other American sweets, and since when I tasted them for the first time they where not famous in Spain yet, every time I taste them or go to any bakery, I think about my beloved friend (that lives in USA from a long time ago).
I don't remember when I found out
Happy Day Bakery
, but I think I've known it forever. I know how I felt when I first saw it: such a cute shop in
Malasaña
! But the best thing is that it's not just a beautiful shop that makes us think of an
American bakery with a 50s style.
There you can find
cupcakes
, muffins,
cakes
, cookies, bagels, gifts, books and a selection of imported American products that you can buy and
cook at home
... and they are GREAT!

Quando andavamo al liceo, a volte andavamo a casa della mia amica Sonia. Lei e sua madre, americana, cucinavano delle pancakes buonissime con sciroppo di cioccolato. In quei anni ho anche assaggiato altri dolci americani, quando non erano ancora così famosì in Spagna, e quindi quando vado in una bakery ci penso a loro, sigh!
Non ricordo quando ho scoperto
Happy Day Bakery
, ma è come se l'avessi conosciuta sempre. Non è solo un negozio carino che ci ricorda alle
bakery americane
degli
anni 50
, ma sono davvero buone! Lì potete trovare
cupcakes
, muffins,
cakes
, cookies, bagels, regali, libri ed alcuni prodotti americani importati per poter fare a casa... BUONISSIMI!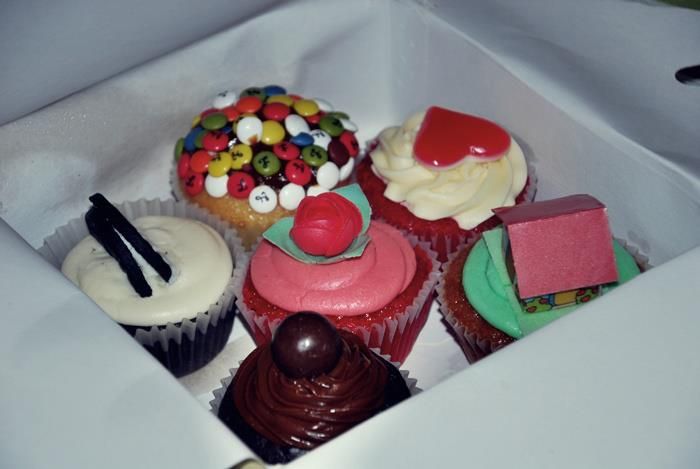 Gratitude is the open door to abundance
DÓNDE
: Calle Espíritu Santo 11, Madrid.
Metro
: Tribunal / Noviciado.
QUÉ
: Dónde comer en Madrid.
Bakery americana
.
Cupcakes, muffins, tartas, cookies, galletas decoradas, bagels, regalos, libros y una pequeña selección de productos de su tienda americana.
+ info:
web
,
facebook
y
twitter
.
besos, iris xx
find me on
: