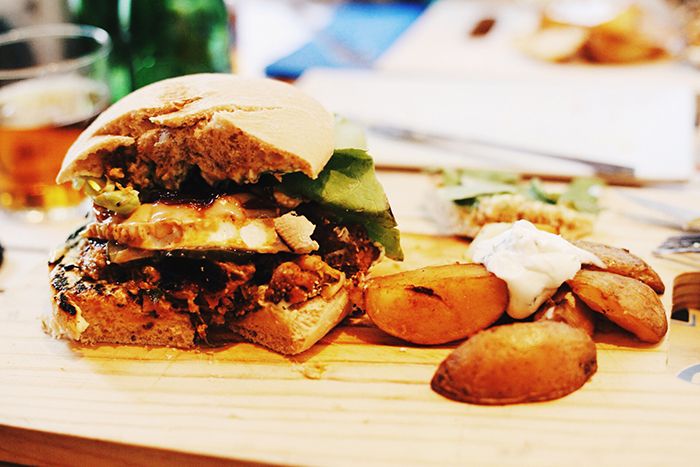 Siempre que puedo os enseño mercados o
sitios con encanto de Madrid
como la floristería
Margarita se llama mi amor
o la pastelería
Mamá Framboise
. José y yo estamos cambiando nuestra dieta por una más saludable (o eso intentamos, estamos leyendo e informándonos bastante para hacer una transición poco a poco, ya que creo que los extremos no son buenos), así que hoy doy un paso más y os quiero hablar de un
restaurante vegetariano
en pleno centro, en la
Latina
.
Quiero dejar claro que el post no está patrocinado y nadie me ha contactado para escribirlo. Lo escribo porque a mí me son útiles este tipo de posts en otros blogs y me gusta descubrir sitios nuevos, así que creo que a alguien le puede ser útil, tanto a gente vegetariana como quien quiera encontrar sitios donde comer sano en la capital.
En Viva Burger están especializados en hamburguesas vegetarianas o veggie burgers, de hecho tienen más de 8 diferentes (italiana, de la huerta, burger queen, japonesa, ahumada, china, árabe…), pero también tienen pinchos, ensaladas, wraps o postres vegetarianos.

Today I wanted to talk you about a restaurant in Madrid where you can find some yummy veggie burgers (you can eat a few other things but they are specialized in veggie burgers). If you're in Madrid, are a vegetarian or want to eat something healthy, give Viva Burger a try!
Dónde: C/ Costanilla de San Andrés, 16
Recomiendo: reservar, y tener paciencia, sobre todo si vas el fin de semana (¡recuerda que estás en La Latina!), está abarrotado!