It seems

fall

has

finally

arrived to Madrid too, and

I love it

! Well yes, we also need some water in Spain!
I love wearing

clothes

that I've bought in some of my

trips,

it makes me

remember special moments and places

that in some way come back to me when I wear them. (I'm obviously the only one knowing this, but it's enough for making me feel good and remember how lucky I am to have lived those moments).
Does it happen to you too?
The

shorts

are from Zara, they actually have some

suspenders

but I decided to wear them with this

jumper

from American Apparel I'm sure you saw to many bloggers last winter, didn't you? I bought it in Spring after my NY trip
so it has waited 'til the summer was over in my closet, but I think that I will use it a lot now that I can finally wear it.
Parece que

por fín

el

otoño

(climatológicamente hablando) ha llegado a Madrid también, y

me encanta

! Sí, también en España necesitamos un poco de agua!
Me encanta llevar

prendas

que he comprado en alguno de

mis viajes

, me hace

recordar momentos y sitios especiales

que de alguna manera vuelven a mí al ponérmelas. (Obviamente esto lo sé solo yo, pero me es suficiente para sentirme bien y recordar lo afortunada que soy por haber vivido esos momentos).
¿Os para a vosotros también?
Los

shorts

que llevo son unos que vendían c
on

tirantes
en Zara hace tiempo. He decidido ponérmelos con este

jersey

de American Apparel que seguro visteis a un montón de bloggers el pasado invierno, verdad? Me lo compré en primavera después de mi viaje a NY así que ha tenido que esperar a que pasara el verano guardado en mi armario, pero creo que ahora que por fín puedo empezar a usarlo lo veréis bastante por aquí!
Sembra che

l'autunno

sia

finalmente

arrivato a Madrid, sono

contenta

!
Eh già, anche in Spagna abbiamo bisogno di un po' d'acqua!
Mi piace portare dei

vestiti

che ho comprato in qualcuno dei

miei viaggi

, mi fa

ricordare dei momenti e dei luoghi

che in qualche modo tornano a me quando li porto. (Ovviamente questo lo so solo io, ma è sufficiente per sentirmi bene e ricordare quanto sono fortunata per aver visuto quei momenti). Succede anche a voi così?
I

short

sono di Zara, in realtà hanno delle

bretelle

, ma ho deciso di portarli con questo

maglione

di American Apparel che sono sicura avete visto in inverno ad altre blogger, vero? L'ho comprato in primavera dopo il mio viaggio a NY e quindi ha aspettato tutta l'estate nel mio armadio fino a quando ho potuto portarlo. Mi sa che lo userò abbastanza...
Sometimes people are beautiful
Not in looks.
Not in what they say.
Just in what they are.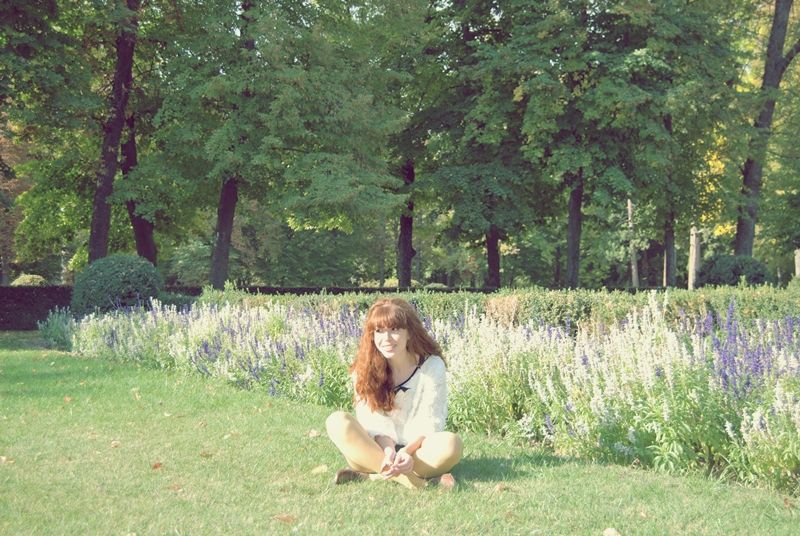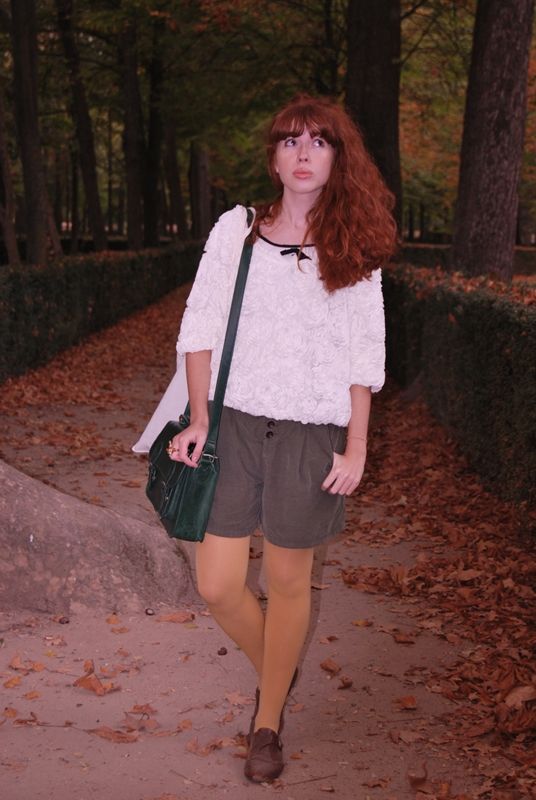 sweater & mustard tights

: American Apparel (from NY).


shorts & bow t-shirt

: Zara.


ring

: Forever 21 (bought in London).


satchel bag

: Urban Outfitters.


shoes

: Ulanka (local shop in Madrid)
.