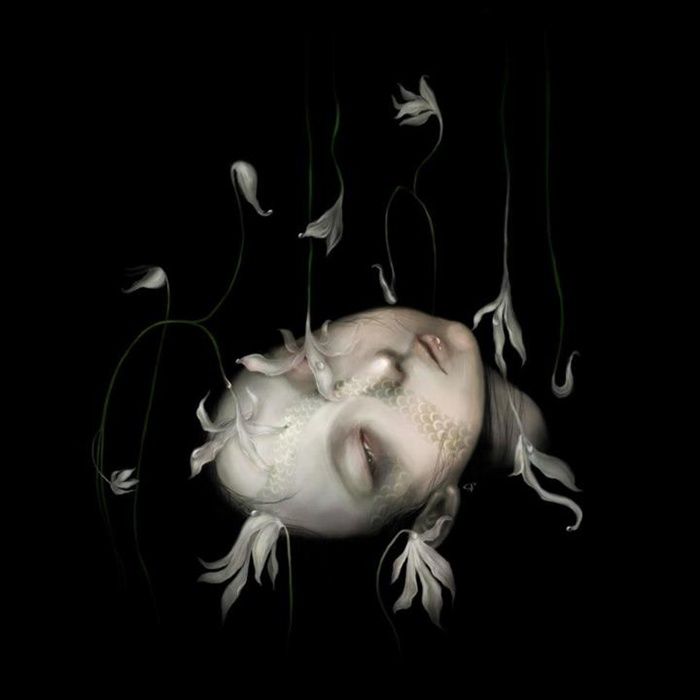 - Hola, Sonya, cómo estás hoy?
Estoy bien, gracias, he estado trabajando con nuevos trabajos para próximos shows.
- Explícanos tu trabajo en tus propias palabras.
Son mensajes tanto de mi consciente como de mi inconsciente.
- Leí que tu inspiración a veces viene de tus sueños. ¿Puedes explicarnos tu proceso creativo? ¿La inspiración viene de otras cosas? Si es así, ¿de cuales?
Tengo algunos sueños muy bonitos y otros muy molestos y siempre son muy reales, tangibles (mis sueños son aburridos muy pocas veces jaja). Cuando me despierto de un sueño, me gusta levantarme y escribirlo. Así más tarde podré poner estos elementos en mis pinturas. Pueden ser algo sólido (como una figura) que he visto o a quien he hablado en mis sueños o simplemente algo simbólico como la atmósfera y los sentimientos que había.
Me gusta transformar algo bonito que ví en mis sueños en algo molesto en mis dibujos y viceversa.
Este proceso es curativo, porque cuando lo hago me ayuda a liberar mis emociones.
Además de los sueños, la música también es mi fuente de inspiración. Así como la gente ve caras en las nubes, yo veo música en los colores y en estampados abstractos. Así que cuando no tengo un concepto sólido, escucho música, pinto formas y caras y encuentro una composición fuera del garabato.
A veces la inspiración es una chispa, sobre todo antes de dormirme,o justo después de levantarme.
Veo imágenes intensas en movimiento en la parte de atrás de mis párpados. No sabía lo que era hasta que hace poco averigüé que se llama alucinaciones hipnogógicas. Las imágenes son preciosas e inspiradoras pero pueden ser muy raras y dar miedo a veces.
- Hi Sonya, how are you today?
I'm doing good thanks, have been working on new pieces for my upcoming shows.
- Tell us about your work in your own words.
They are messages from both my conscious and subconscious mind.
- I read your inspiration sometimes comes from your dreams. Can you please explain how your creative process when this happens. Does your inspiration come from other things, if so, which ones?
I have very beautiful and disturbing dreams and they are always so real, so vivid and tangible (my dreams are rarely boring haha). Whenever I wake up from an interesting or disturbing dream, I like to get up and write down my encounter and then I would later implant these elements into my paintings. They can be something solid (like a figure) that I saw/talked to in my dreams or just something symbolic like the atmosphere and the feeling from it. I like to turn something beautiful I saw in my dreams into something disturbing on my canvas and vice versa. This process is like healing, because when I do that, it helps me to release my emotions.
Other than dreams, music is also my source of inspiration. I see music in colors and things in abstract patterns just like how people see faces in clouds. So when I don't have a solid concept, I would just listen to music, paint random shapes and faces and find a composition out of the (sometimes messy) doodle. Inspiration also comes like a spark in the head, especially before I fall asleep / after I just wake up, I see really vivid images in motion on the back of my eyelids. I didn't know what it was until recently I just found out that it's called "Hypnagogic images". The images are very beautiful and inspirational but it could be really weird and scary at times.
- ¿Puedes contarnos un recuerdo que guardes con cariño de tu niñez?
Cuando era una niña solía usar velas y linternas de papel y salir a dar una vuelta con los niños de mi vecindario en el festival de mitad de otoño. Salíamos hasta media noche y nos olvidábamos de la realidad. ¡Qué nostalgia!
- Tus personajes siempre parecen frágiles, con una especie de nostalgia que no muestra realmente felicidad... ¿es algo premeditado cuando trabajas o es algo natural que te sale de dentro?
Creo que las malas noticias y las pesadillas me dan con más fuerza que los arco iris y las mariposas.
- ¿Cuándo empezaste a pintar y cómo crees que ha evolucionado tu trabajo?
Empecé con 3 o 4 años, pero no me lo tomé en serio hasta hace pocos años, cuando decidí ser una artista full time.
Creo que estoy evolucionando de "pintar por pintar" a "pintar algo que me sale del corazón y que lleva significado y emoción". Aunque aún estoy aprendiendo y explorando, tengo que mejorar y estoy trabajando en ello.
- Can you tell us a cherish memory from your childhood?
When I was a child I used to light candles and paper lanterns and hang around with the kids in the neighborhood on Mid-Autumn festival. We chilled out till midnight, forgot about reality. I'm nostalgic right now.
- Your characters always look somehow fragile, with a kind of nostalgia that doesn't really show happiness? is that something you have in mind when you are working or is it a natural way from your inside?
I guess sad news and bad dreams strike me harder than rainbow and butterflies.
When did you start painting, and how do you think your work has evolved?


I started drawing since I was 3 or 4, didn't take it seriously until recent years that I decided to be a full time artist. I think I'm evolving from "painting for the sake of painting" to "painting something out of my heart that bears meaning and emotion". Yet I'm still learning and exploring, I have to improve and I'm working on it.

- Recomiéndanos una canción y un lugar donde perderse.
"Alternate route to Vulcan street" de Super Furry Animals, y he oido que hay un lugar muy bonito y tranquilo en el lado oscuro de la luna, mejor que cualquier sitio en la tierra.
- ¿Un sueño que te gustaría cumplir?
Me gustaría ayudar a otras personas con mi arte, a nivel espiritual.
- ¿Qué recomendarías a los ilustradores o personas creativas que estén empezando?
Siempre intentad dad lo mejor de vosotros mismos, sed positivos, seguid aprendiendo, explorando y no os pongáis límites a vosotros mismos.
- ¿Hay algún sitio donde podamos comprar tu trabajo?
Todavía no tengo tienda online pero algunos de mis trabajos están en Above Second Gallery (www.above-second.com) y algunos de mis pequeños dibujos están en Auguste Clown gallery (www.augusteclown.com). No dudéis en contactarme para más información.
- Please tell us a dream you'd like to achieve?
I want to be able to help people with my art, on a spiritual level.
- Recommend us a song and a place to get lost.
"Alternate route to Vulcan street" by Super Furry Animals, and I heard that there is a really nice and tranquil spot on the dark side of the moon, better than anywhere here on earth.
- What would you recommend to those creative people or illustrators that are starting their work?

Always try your best, find your style, be positive, keep learning and exploring and don't limit yourself.
- Is there anywhere we can buy your work?
I don't have an online print store yet but some of my works are available at Above Second gallery (www.above-second.com) and some of my small prints are available at Auguste Clown gallery (www.augusteclown.com), feel free to contact me for more info.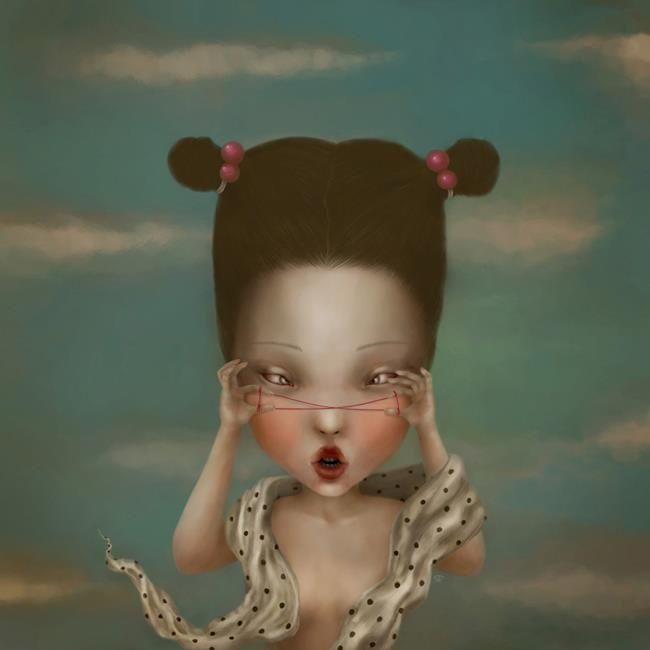 besos!
twitter ||
facebook
bloglovin || pinterest