Hola! Vengo con una sección que me encanta y es las charlas con los ilustradores o gente creativa que me voy encontrando por el camino. Conocí los dibujos de Mercedes hace poco, por casualidad, pero me atrapó la mirada tan realista (por no hablar del pelazo que tienen) de las chicas que pinta. Parece que las pudieras tocar o que quisieran salir del dibujo para irse a tomar algo contigo, verdad? :)
Desde aquí le deseo lo mejor a Mercedes, sin duda tiene un gran talento y obviamente le seguiré la pista! ;)
+++++ MERCEDES DeBELLARD +++++
- Hola, Mercedes, cuéntanos algo sobre tí.
Me llamo Mercedes deBellard, tengo 26 años y soy ilustradora.
Vivo en Granada. Ciudad a la que vine hace unos años a estudiar Bellas Artes.
No recuerdo bien cuando empecé a dibujar. Supongo que como todo el mundo, de pequeñita, y desde entonces nunca lo he dejado.
Aunque fue hace relativamente poco tiempo que conocí el mundo de la ilustración y la posibilidad de dedicarme a ello de forma profesional. Es la idea que ahora mismo ronda por mi cabeza.
- Hi, Mercedes, please tell us something about you.
My name is Mercedes deBellard, I'm 26 and I'm an illustrator.
I live in Granda, the city I came to some years ago when I started to study Arts.
I don't remember very well when I started to draw, I guess I started as a child, like almost everybody. I haven't stopped since then.
Anyway, I recently found out the illustration world, and the possibility of doing it for a living. It's the idea that is going round and round my head these days.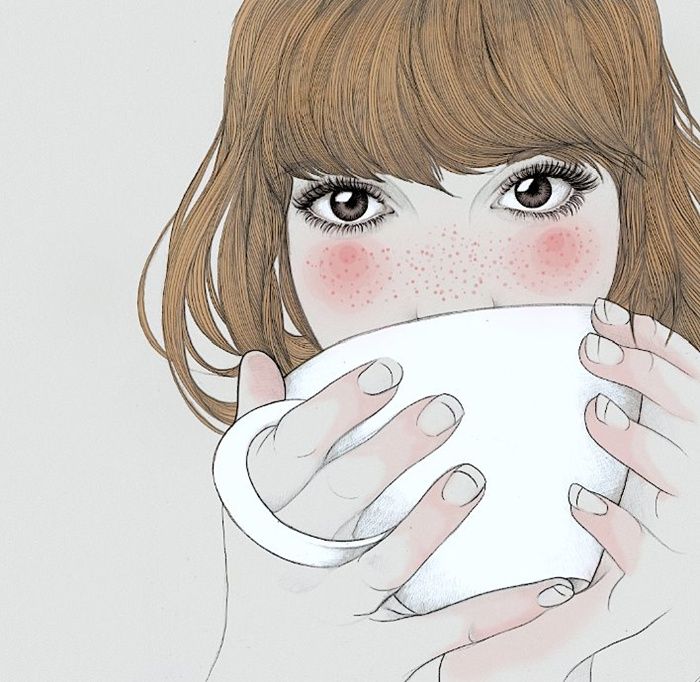 - Where do you find inspiration from?
En casi todo lo que me rodea. El trabajo de otros ilustradores, pintores, fotógrafos, en revistas de moda, internet y sobre todo en mis amigas y la gente de mi alrededor.
- ¿Cómo es el estudio o donde normalmente realizas tu trabajo?
Trabajo en casa, donde tengo mi "mini estudio" una mesa de madera cuadrada llena de lapiceros y una estantería repleta de botes de tintas, acuarelas y acrílicos. Un pizarrón donde anoto los trabajos y fechas de entrega y otro para colgar cualquier foto o dibujo que encuentro que me suscita cualquier tipo de inspiración. Parece algo caótico desde lejos, pero a mi me encanta el festival de colores que produce.
- Where do you find inspiration from?
Whatever that is in my life. Other illustrator's, painter's and photographer's work, in fashion magazines, the Internet and most of all my friends and the people around me.
- How it is the studio you work in?
I work at home, where I have my "mini studio", a wooden table full of pencils and a shelve full of ink jars, watercolors and acrylics. A big blackboard where I note down my work and the delivery dates, and then another one to hang some inspiration pictures or drawings. It might seem chaotic but I love the festival of colors it creates.
- ¿Cómo crees que ha evolucionado tu trabajo?
Estoy muy contenta con la trayectoria que siguen mis dibujos, poquito a poco los voy notando más mios. Puedo apreciar la evolución y eso me satisface enormemente.
- ¿Hasta dónde te gustaría llegar?
Hasta donde me permitan mis fuerzas. Pero por ahora me conformo con dedicarme plenamente al mundo de la ilustración.
-
How do you think your work has evolved?
I'm so happy with the path my drawings are getting, they are more "mine" now. I can appreciate the evolution and that really fulfill me.
- Where would you like to arrive?
Until I have given everything I have. But for now I'd be more than happy with working full time in illustration.
- ¿Cómo es un día de Mercedes deBellard?
Bastante normalito, eso sí, hasta que no desyuno, no soy persona.
- ¿Dónde se pueden adquirir tus ilustraciones?
A través de mi blog: http://mdebellard.blogspot.com o mdebellard@gmail.com
- Where can we buy your illustrations?
In my blog: http://mdebellard.blogspot.com or sending me an email to: mdebellard@gmail.com
- ¿Tienes algún recuerdo especialmente bonito gracias a tus ilustraciones?
Todas son especiales. Sobre todo las que están inspiradas en personas importantes para mi.
- Recomiéndanos: una canción y un lugar para perderse.
Elegir una canción es algo imposible para mí, que tal "corrientes circulares en el tiempo" de Los Planetas? Para perderse, en las callejuelas del Albaycín, en Granada.
- Do you have any particular memory thanks to your illustrations?
They are all special. Most of all those that are inspired in important people to me.
- Recommend us: a song and a place to get lost.
Choosing a song is almost imposible to me, what about "Corrientes circulares en el tiempo" from "Los planetas".
A place to get lost... the narrow streets of Albaycín in Granada.